---
To modify group settings:
1.   Click Group Settings in the list of activities for a group.
2.   Edit the required details and click Save.
You can change the following settings:
¨     Group Name: Rename the group.
¨     Set Welcome Greeting: Enter the required text. This welcome message will be sent to all new members when they are invited. You can type up to 2000 characters.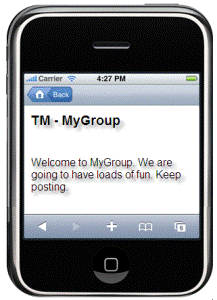 : Welcome greeting message is sent only to Non-NCPR numbers and 1 credit is deducted for every message.
¨     Set Call Back URL : Set a call back URL for real-time delivery reports.
¨     Allow Self Join: Select this option to allow customers to self join groups by sending SMS - 'JOIN [Keyword]' to 9220092200.
¨     Enable Mobile Access: Select this option to give mobile access to a list of mobile numbers. Any group can be accessed using simple SMS commands.
: You can add up to 7 mobile numbers.